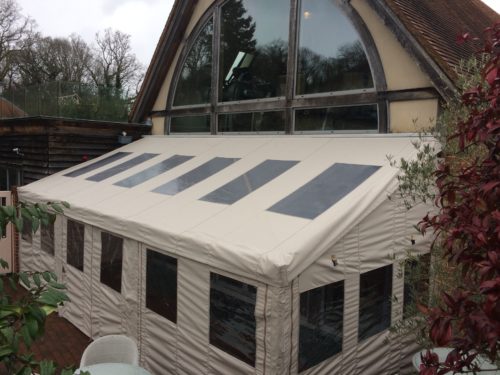 DOMESTIC BESPOKE CANOPIES
Tailored to your needs

High quality materials - Long lasting, UV protective and weatherproof.

Diverse selection of colours

Replacement canopies designed to fit existing frames
We can supply a range of domestic bespoke canopies for the home and garden, tailored to your individual needs. Previously, we have manufactured covers for garden pergolas, garden furniture and gazebos, along with some more unusual items.
Our canopies are made from high quality materials meaning they have longevity and are UV protective and weatherproof. The canopy will leave you well prepared for whatever the great British weather can throw at you, rain or shine!
Specialised Canvas can offer a diverse selection of colours enabling you to co-ordinate your new canopy with the rest of the garden furniture. Every canopy we produce will be bespoke tailored to you. Therefore, if you have any specific requirements please make us aware and we will endeavour to fulfil these.
These bespoke canopies can be manufactured to suit an existing frame, or we can create canopy replacements. If you are replacing an existing canopy we would use your old canopy to help us create a pattern. The frame often out-lives the canopy so rather than replace both parts why not extend the life of your current frame with a new canopy.
Our canopies are often used to provide shade and shelter out in the garden. As a result we are also happy to provide a range of garden furniture covers in matching materials to your canopy. Please contact our team if you would like to explore this option further.
Take a look at one of our special customised jobs here